Bridging the Mitzvah
Bridging the Mitzvah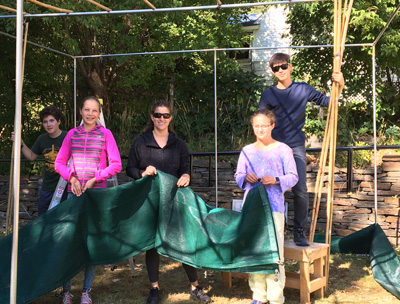 Bridging the Mitzvah meets one Saturday evening a month.
'Bridging the Mitzvah' is a gathering of Beth Jacob teens who are just before or have already celebrated a bar/bat mitzvah.
The bat or bar mitzvah celebration is a coming of age milestone, which, like a doorway, leaves one world behind while opening onto a new one. We believe strongly that this celebration is not the culmination of Jewish studies but rather the transition from an educator-driven, parent-guided learning experience to one which nourishes the budding independence of the adolescent years. Gathering as a group at least once a month, the Bridging the Mitzvah participants explore their Jewish experience, heritage, ritual and culture powered by their own curiosity and social engagement. Guided by a BJ education staff member, the teens themselves define their common and individual interests and build thier own curriculum of programs. This program has grown out of the Beth Jacob teens' own desire to continue the joy of meeting and learning they experienced during the years they prepared for their mitzvot.
For a youth to participate in Bridging the Mitzvah, their family must be a current member of the synagogue, paying dues of $270 or higher (see "School Dues" on the "Donate" page).
Tue, July 16 2019
13 Tammuz 5779
Tue, July 16 2019 13 Tammuz 5779