Social Justice Committee
Social Justice Committee
God says to us, "..You shall not oppress a stranger for you know the heart of a stranger, seeing you were strangers in the land of Egypt" and thus God commands us to care for the stranger, to not be idle in the face of suffering. The Beth Jacob Social Justice Committee strives to fulfill these commandments through being nimble in response to local, national and international events, and in the process work towards tikkun olam, repair of the world.

We meet approximately once a month. Issues we have paid attention to include fighting against racism, reform of the Vermont justice system, mental health concerns, refugee resettlement and immigrant rights, and gun control. To a significant extent the committee functions as Jewish support and inspiration for each of us as we navigate and try to change a beautiful but troubled and troubling world. We also have a Beth Jacob Social Justice email list, to inform other Beth Jacob members about upcoming events and actions as they emerge.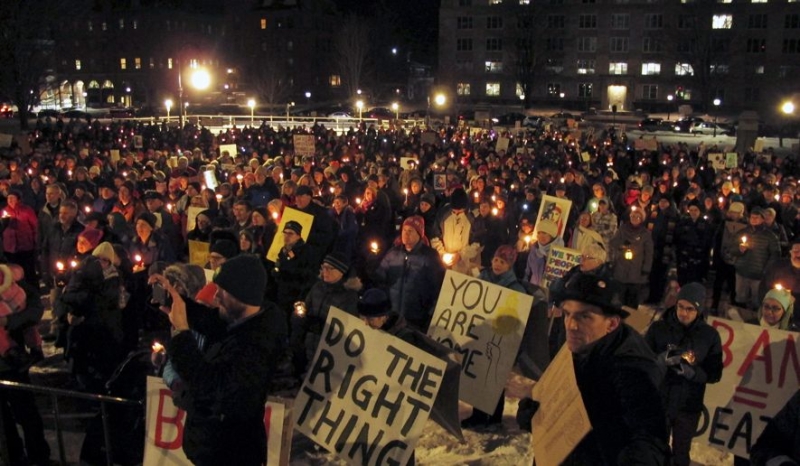 To participate, contact Nicola Morris.
Sun, July 21 2019
18 Tammuz 5779
Upcoming Events
All Events
Hebrew School Committee Meeting


Wednesday, Jul 24th

3:00p

to

5:00p




Parenting Through A Jewish Lens


Thursday, Jul 25th

7:00p

to

8:00p




Now you can attend this popular, 6-week, Parenting Through a Jewish Lens series via Zoom, an online platform where you can see and hear everyone and be part of the discussion. Anyone who is raising Jewish children in Vermont is welcome to attend. Come to one or all!

Kabbalat Shabbat Service.


Friday, Jul 26th

7:00p

to

8:00p




Please join us to welcome Shabbat with a Kabbalat Shabbat Service led by Phyllis Rubenstein.

Stories of Love and Religion, A presentation by Dr. Marion Usher


Sunday, Jul 28th

10:30a

to

12:00p




Please join us for a wonderful, interactive presentation on how to create understanding in a relationship with different religious and cultural backgrounds with presenter Dr. Marion Usher, Author of "One Couple, Two Faiths".

Kabbalat Shabbat Service


Friday, Aug 2nd

7:00p

to

8:00p




Welcome Shabbat with a Kabbalat Shabbat Service. Leader TBA.
Sun, July 21 2019 18 Tammuz 5779