Adult Programs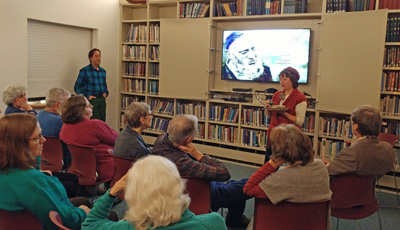 Through a variety of educational pursuits, our members grow in soul and spirit through the sacred process of study and reflection on topics both modern and ancient.
From Yiddish film and klezmer to Indian delicacies of Cochin, India, and intricate papercutting, our members - and guests from the larger community - enjoy an array of cultural events limited only by our imaginations. Events take place at our synagogue, in parks and in public spaces, often in partnership with other venues and organizations. Artists, performers, speakers and teachers come to us from across the globe or across the street, and often from within our esteemed membership.
A sampling of recent events:
Dinner with Tevye - The classic Sholem Aleichem film paired with a dinner inspired by the Russian Pale of Settlement at the end of the 19th century.
Jewish Jazz - A musical tour of the interrelationship of klezmer and jazz
Jewish Papercutting - A historical presentation and hands-on arts workshop
Shoe b'Shvat - A snowshoe trek under the full moon and the poetry of trees in celebration of Tu b'Shvat
Parents Discussion - Raising Jewish children in interfaith families
The Culture of Cochini Jews and an Indian Feast - Scholarly presentation and chef-prepared dinner
Check our calendar for current events.
Tue, January 19 2021
6 Shevat 5781
Upcoming Events
All Events
Tuesday

,

Jan

January

19

,

2021

Board meeting (Zoom)


Tuesday, Jan 19th

7:00p

to

9:00p




Friday

,

Jan

January

22

,

2021

Secular Humanist Service (Zoom)


Friday, Jan 22nd

5:30p

to

6:00p




Join leader Matt Levin to welcome Shabbat with a Secular Humanist service. This participatory service in English embraces a human-centered philosophy that combines the celebration of Jewish culture, values, traditions, and identity with an adherence to humanistic values and ideas.

Sunday

,

Jan

January

24

,

2021

Yiddish Class Series (Zoom)


Sunday, Jan 24th

4:00p

to

5:30p




Join teacher Randi Hacker on Zoom for a fun 6 week series on Sunday afternoons to learn Yiddish. All levels welcome. zayt mir dervayleh gezunt. Please register below to receive the zoom invitation.

Sunday

,

Jan

January

24

,

2021

Author Talk with Jack Fairweather, "The Volunteer"


Sunday, Jan 24th

5:30p

to

6:30p




Join local author and award-winning war reporter, Jack Fairweather for a book talk on his highly acclaimed book, "The Volunteer" which follows one man, an underground army and the secret mission to destroy Auschwitz.

Tuesday

,

Jan

January

26

,

2021

Crossword 101 (Zoom)


Tuesday, Jan 26th

11:00a

to

12:00p




Join us on Zoom for a chance to chat and do a NYT crossword puzzle together.
Tue, January 19 2021 6 Shevat 5781